SUBSCRIBE HERE and get LIFETIME access to my weekly newsletter:
Each week get strategies, tools, and tips for creating the life you WANT, and attracting the relationship you deserve!
Learn how you can become the one and attract the ONE by:
As your hypnotherapist and coach, we can:
put an end to the war one in your head and attract the love of your life.
If you're ready to stop dating and attract the ONE, book your free consultation call!
The Ultimate Love Strategy™️ Includes:
Hi! I'm Karen, executive marketing strategist turned coach and hypno-transformation therapist. I help women change their relationship with their inner b*tch (that lives in their head), by teaching practical mind-shifting techniques they can use long-term to attract the ONE.
I do this through simple, effective methods that are taught in the exclusive Hypno Solution coaching program.
Like most women I work with, I struggled most of my early life, never feeling good enough. Nor did I ever feel skinny enough or exude enough willpower. And to top it off, I would bring so much unnecessary internal suffering upon myself with false beliefs and toxic thoughts that I would attract all the wrong energy. If there were a shocking new drama on Netflix with the main character overcoming sexual abuse as a child and then bankruptcy, divorce, foreclosure, and repossession all in one glorious year, I would get the lead role.
It wasn't until I utilized hypno-healing tools and strategies to transform my limited negative beliefs that I broke up with my inner b*tch. Then, I pursued things I never thought possible, including the construction of my own business, raising two beautiful, smart children all on my own, and, attracting the incredible man I now call my husband. By actively cultivating the marriage I've always wanted with hypno-focused tools, I've created lasting joy in our lives, even through all the unexpected chaos life throws our way. It's a constant journey. As John Maxwell says, "There is no finish line. If you cross it, you're finished."
Don't want one-on-one coaching? Check out all the resources for you!
Karen has been a mentor and relationship coach for me for years. Her commitment to creating real and lasting love in marriage is deep and her perspective is invaluable. I feel nurtured, uplifted, and taught in every conversation. I highly recommend her to anyone who is seeking help and a new view of the world.
–Marylyn
For years, I've suffered from work stress, resulting in poor boundaries and hygiene habits. I had three sessions with Karen, and the transformation was unbelievable. Not only is she skilled at what she does, but she also has an instinctive understanding of her client's needs and how to draw out the root cause of the problem. Her support went well beyond the therapy, Karen constantly checked in and gave me helpful advice on how to improve my relationships and my lifestyle in general. I would highly recommend her to anyone who needs a good RTT therapist, as she is truly talented and looks at treatment in a truly holistic manner.
–Jill
As soon as I started working with Karen and doing the strategies to better myself, everything around me grew and got 10 times better. I've been dating a great guy in every way, who is on my level, supporting me and my health and wellness. I've lost 100 pounds, I have companionship, and I have someone who cares about my children equally.
–Natasha
If you are going to be the writer, director, producer, and the MAIN STAR of the amazing life you are creating for yourself, then you need an awesome soundtrack, right? Heck, yeah!
So I made a love playlist! It's an amazing tool to help you FEEL GOOD and help you believe that everything you are creating is on its way TO YOU!
Especially that perfect partner.
My Love Playlist is jam packed full of songs that are fun, positive, and full of love. (Warning: this playlist might make you spontaneously break into a happy dance.) And now I'm sharing it with you! ​ I put the whole thing on Spotify for you to enjoy! Definitely give me more songs to add!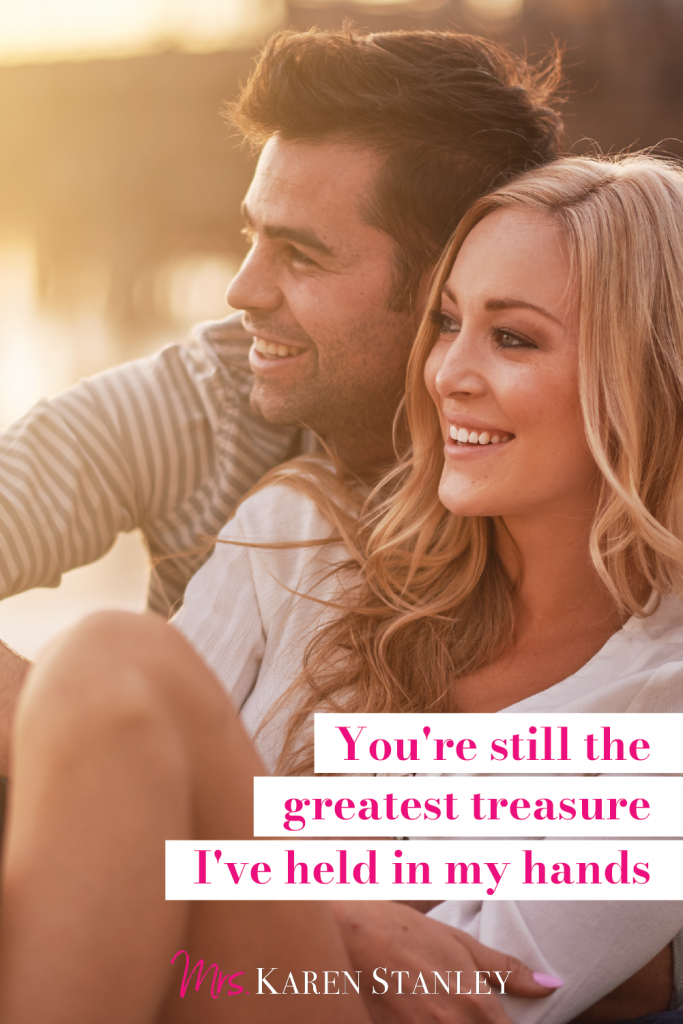 This error message is only visible to WordPress admins
Error: Access Token is not valid or has expired. Feed will not update.